I have been asked many times over the years about METS since they are displayed on most of today's cardio machines, including our new Elegant and Touch consoles. Simply stated, METS is a good way to measure your exercise intensity and therefore the effectiveness of your exercise. MET stands for Metabolic Equivalent Task where one MET is equal to the rate you burn calories while you are sitting. As you begin to move or to exercise, you burn more calories and that increase can be measured or represented as an increase in METS.
I like to use a laymen's translation for METS as a Metabolic Equivalent To Sitting, or how many times more calories a person is burning during an activity compared to if they were sitting around watching TV. So if your cardio machine states that you are working at five METS, you are burning calories 5 times faster than you would if you were watching television. Exercise at 10 METS and you will burn as many calories in a 20-minute cardio session as you would in over three hours and 20 minutes of watching TV.
While the number of calories you burn obviously goes up with an increase of METS, the actual number of calories a person burns still varies based on age, weight and fitness level and this is another subject which should be addressed separately. MET values will vary with combinations of change in speed and elevation on a treadmill or speed and resistance on a bike or elliptical. You can also use METS to determine if your workout on an exercise bike today is as efficient as it was yesterday on a treadmill or elliptical machine.
TIP: Since many people may not be able to maintain 10 METS or even five METS for extended periods of time try an interval based program like Sprint 8® that will take you to or near your individual tolerance and back down to something more comfortable and then back up and down again repeatedly. This type of fitness program has been shown over and over again to be extremely effective at increasing fitness levels.
Here is a chart showing the MET value of various common activities: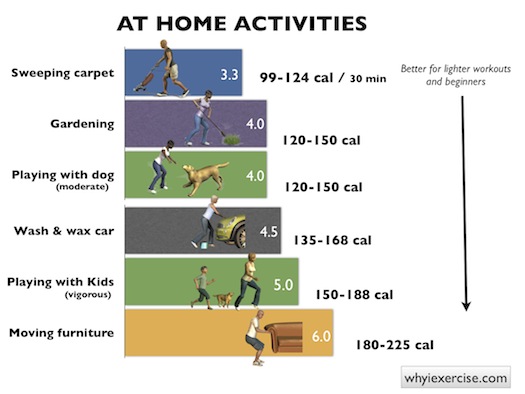 Sources: http://en.wikipedia.org/wiki/METs